Richard Bingley / Co-Founder & Director, CSARN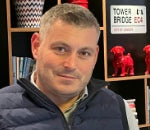 Richard began his career within the City of London, before working within the governmental sector (political communications and ministerial events, 2003-06). Richard is the author of three security books, including 'Terrorism: Just the Facts' (Heinemann, 2004) and the 'Security Consultant's Handbook' (ITGP, 2015). His new book 'Cyber Terrorism' is due out during 2022.
Some of his later work experiences include serving as Close Protection Operative at the London 2012 Olympics and Russia's 2014 Winter Olympics. These roles focused upon threat intelligence analysis and crisis management planning.
Richard served as Senior Lecturer in Security at Buckinghamshire New University (2012-17) before leading a London higher education college and founding the Global Cyber Academy. He has guest lectured regularly, including at the National Counter-Terrorism Security Office (NACTSO), the UK Defence Academy, and the UK Foreign & Commonwealth Office (FCO). Among other voluntary roles, Richard is member of the All-Party-Parliamentary Group (APPG) for Cyber Security and served as Chairman of the Brexit, Infrastructure and Legislative Change Committee on Plymouth City Council between 2021 and 2022.